As you can tell by the title of our site, we love Livin in Vegas. With all of the things to see and do for tourist, what sites are must sees for locals. With that in mind we put together our list of the Top 50 Places Las Vegas Locals Should Visit. This is just a short list of the literally hundreds of really memorable sites to see in the valley but they should all be on your list at the very minimum.
We made sure that most if not all of the sites were affordable or free, so there is no excuse for not taking advantage of seeing them. And with so many sites, it would take you an entire year to see them all once.
Caesars Palace
Set in a sprawling complex of Roman-themed buildings along the busting Las Vegas Strip, this iconic casino hotel is a mile from I-15 and 14 miles from Rio Secco Golf Club.
Elegant rooms housed in 5 towers come with Wi-Fi access, flat-screen TVs and minibars. Suites add living areas and whirlpool tubs; upgraded suites include pool tables and/or dance floors. Room service is available 24/7
The Luxor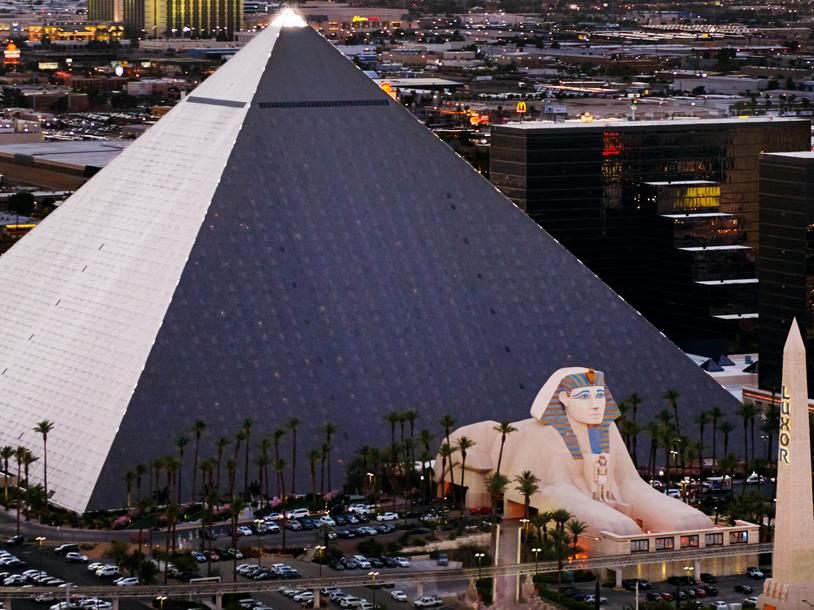 Housed in a 30-story pyramid topped with a 315,000-watt light beam, this vibrant Egypt-themed casino resort on the south end of the Strip is 2 miles from McCarran International Airport.
Warm rooms have traditional furnishings, flat-screen TVs and Wi-Fi. Suites offer soaking tubs and separate sitting rooms; some have wet bars. Pyramid rooms and suites have slanted walls. Room service is available.
Bellagio
Fronted by an 8-acre lake with dancing water fountains, this luxury casino resort on The Strip is 2 miles from McCarran International Airport.
Airy, elegant rooms offer custom art, and marble bathrooms with soaking tubs, plus smart TVs and sitting areas. Lavish suites come with private elevator access, living rooms, whirlpool tubs and butlers; some add free airport shuttle service.
Dining options include plush international restaurants, cafes and a buffet eatery. The casino features over 2,000 slot machines and 40 poker tables. There's also a spa and a gallery, plus 5 outdoor pools, bars and live shows. A resort fee covers Wi-Fi and gym access.
Four Queens Downtown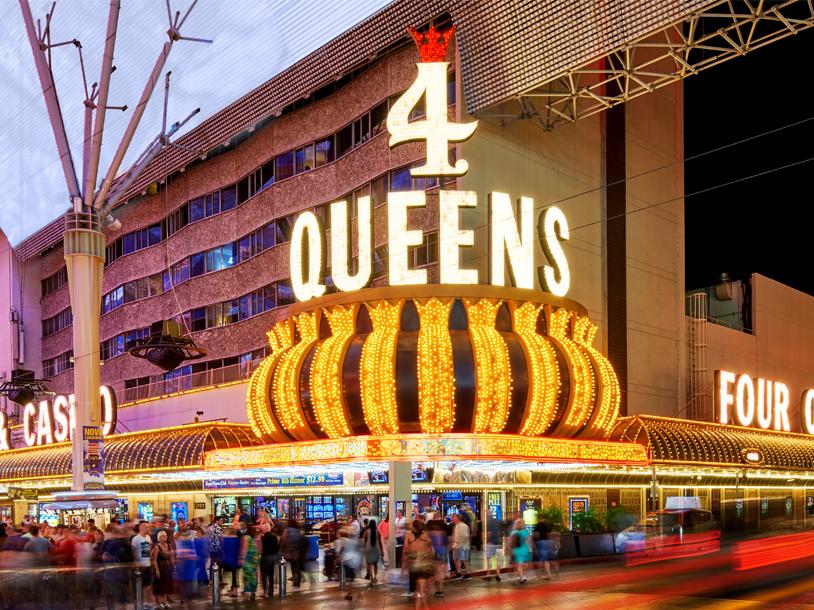 Overlooking the Fremont Street Experience, this New Orleans-themed casino is adjacent to the Golden Nugget and a 5-minute walk from The Mob Museum.
Standard rooms have flat-screen TVs and coffeemakers; minifridges and WiFi are available for a fee. Suites add living areas and whirlpool tubs.
There's no resort fee. Amenities include a classic casino with globe chandeliers, an event pavilion with live comedy and entertainment, a rooftop pool and sundeck, a cocktail lounge, a microbrewery, and several eclectic restaurants.
Container Park
Offbeat shopping center built from shipping containers, plus galleries & courtyard with playground.A 3-min walk from the El Cortez
Fremont Street Experience
The Fremont Street Experience is a pedestrian mall and attraction in downtown Las Vegas, Nevada. The FSE occupies the westernmost five blocks of Fremont Street, including the area known for years as "Glitter Gulch," and portions of some other adjacent streets.
Arts District
The Arts District, or 18b, is a vibrant cultural hub packed with indie art galleries and performance spaces in converted warehouses. Major venues include the Arts Factory, with galleries, shops and a bistro, and sprawling Art Square, where the intimate Cockroach Theatre stages new plays and offbeat revivals. Bars with a bohemian vibe serve craft cocktails till late.
Top of the Stratosphere
On the north end of the Strip, this landmark casino hotel with a 1,149-foot observation tower is 2 miles from the Fremont Street Experience and a 9-minute walk from the Las Vegas MonorailSLS Station.
Straightforward rooms offer free Wi-Fi and flat-screen TVs; suites add sitting areas and minifridges.
Parking is free. A resort fee includes Wi-Fi, gym access and Tower admission. Additional perks include a casino, a wedding chapel and 4 thrill rides 100 stories above the Strip (surcharge), plus a rotating restaurant in the observation tower. There's also live entertainment, and an outdoor pool with cabana, plus several bars and lounges.
North Las Vegas Airport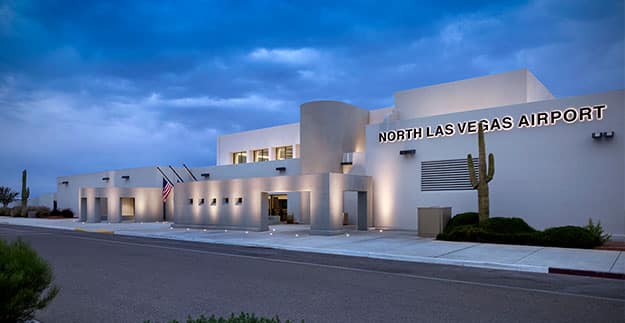 North Las Vegas Airport is three miles northwest of downtown Las Vegas, in North Las Vegas, in the U.S. state of Nevada. It is owned by the Clark County Commission and operated by the Clark County Department of Aviation.
McCarran Airport
Harry Reid International Airport, is an international airport in Paradise, Nevada, and is the main government airport for public use in the Las Vegas Valley, a metropolitan area in the U.S. state of Nevada, about 5 miles south of Downtown Las Vegas.
City Hall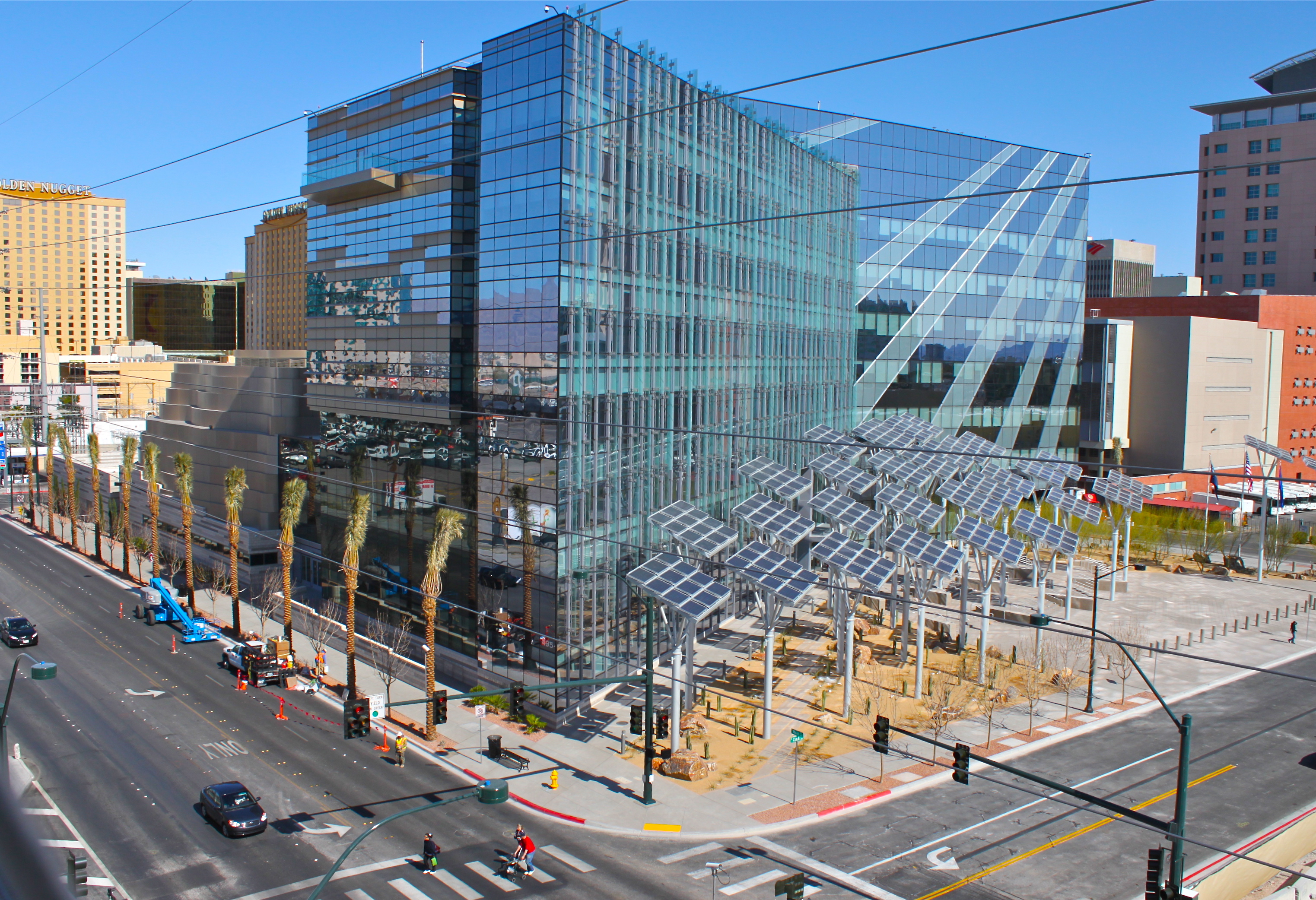 Las Vegas City Hall was the center of municipal government for the City of Las Vegas, Nevada. It is located downtown, with its main entrance on Stewart Avenue. It is cited as an example of 1960s modern architecture. The original eleven-story central tower was completed in 1973.
Sunset Park
Sunset Regional Park, one of the largest parks in Las Vegas, is located near Harry Reid International Airport in the southeast part of the valley. The park is bordered by Sunset Road on the north, Eastern Avenue on the west and Warm Springs Road on the south.
Floyd Lamb Park at Tule Springs
Floyd Lamb Park at Tule Springs is a 2,040-acre park in Las Vegas, Nevada. The park is centered on Tule Springs, a series of small lakes that formed an oasis in this part of the Mojave Desert.
Sunrise Mountain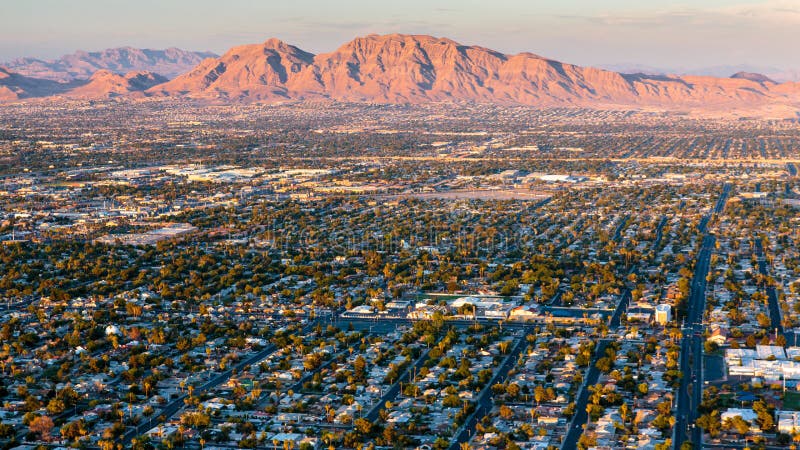 Sunrise Mountain is located east of Las Vegas in Clark County, Nevada. Even though Sunrise Mountain is over 3.3 miles NNW of higher peak Frenchman Mountain many people in the Las Vegas Valley refer to Frenchman Mountain as Sunrise Mountain since the sun rises from behind it.
Meadows Mall
Meadows Mall is a shopping mall in Las Vegas, Nevada on 84 acres. It is a two-story enclosed mall with 960,000 ft² of space. The mall has 118 stores and 5 anchors. It is surrounded by 4,900 surface parking spaces in four different color-coded lots.
Fashion Show Mall
Fashion Show is a shopping mall located on the Las Vegas Strip in Paradise, Nevada. The mall hosts weekend fashion shows on a retractable runway within the mall's central atrium, hence the name.
Boulevard Mall
The Boulevard Mall is located at 3528 S Maryland Pkwy, in Paradise, Nevada, United States. Located on 75 acres, it is a single-story super-regional mall with 1,180,000 sq ft of lease-able retail space. It has 140 stores; anchor stores include Goodwill and 99 Ranch Market. 
UNLV
The University of Nevada, Las Vegas is a public land-grant research university in Paradise, Nevada. The 332-acre campus is about 1.6 mi east of the Las Vegas Strip. It was formerly part of the University of Nevada from 1957 to 1969.
Nellis AFB
Nellis Air Force Base is a United States Air Force installation in southern Nevada with military schools and more squadrons than any other USAF base.
The Smith Center
The Smith Center for the Performing Arts is located in Downtown Las Vegas's 61-acre Symphony Park and is a five-acre performing arts center consisting of three theaters in two buildings; groundbreaking for the $470 million project was May 26, 2009.
Springs Preserves
Springs Preserve consists of 180 acres dedicated to nature walks and displays and is owned and operated by the Las Vegas Valley Water District. The Preserve is located approximately three miles west of downtown Las Vegas, Nevada.
Discovery Children's Museum
DISCOVERY Children's Museum is a nonprofit children's museum in Las Vegas, Nevada, dedicated to providing children of all abilities, backgrounds, and beliefs, access to fun and exciting STEAM educational experiences.
Mob Museum
The Mob Museum, officially the National Museum of Organized Crime and Law Enforcement, is a history museum located in Downtown Las Vegas, Nevada.
Thomas and Mack Center
Thomas & Mack Center is an arena located on the campus of the University of Nevada, Las Vegas in Paradise, Nevada. It is home of the UNLV Runnin' Rebels basketball team of the Mountain West Conference.
Tivoli Village
Tivoli Village is a mixed-use development center consisting of retail and office space, located on 28.43 acres at 410 South Rampart Boulevard in Las Vegas, Nevada, next to the Summerlin community. The property is owned by Great Wash Park LLC. The project was announced in May 2005, as The Village at Queensridge
Wetlands Park
This amazing area of east Las Vegas is filled with water features, wildlife and plants not seen in other parts of the valley. Follow the miles of wetland trails and discover the aquatic side of Vegas.
Rancho Circle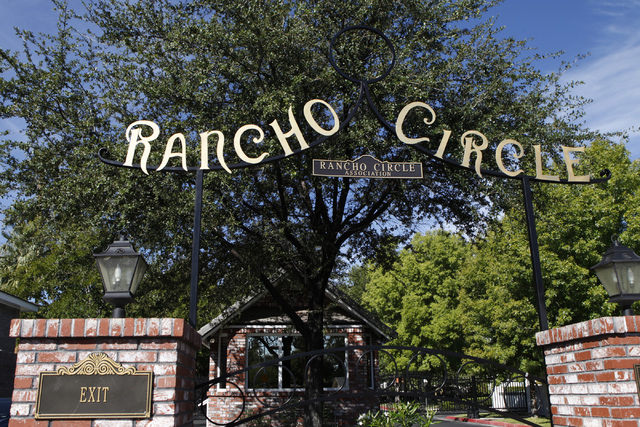 Find the newest Rancho Circle historic homes for sale & vintage real estate listings in Las Vegas, NV below! The historic Las Vegas neighborhood of Rancho Circle, established in the 1940's, offers an ideal location with spacious residential lots. Located north of Alta Drive, the community is adjacent to the Rancho Bel Air neighborhood. Its convenient proximity to Interstates 95 and 15 make accessing the amenities of the city and surrounding area easy. 
Circus Circus
Circus Circus Las Vegas is a hotel and casino located on the northern Las Vegas Strip in Winchester, Nevada. It is owned and operated by Phil Ruffin. Circus Circus includes the largest permanent circus in the world. It features circus and trapeze acts, as well as carnival games, at its Carnival Midway.
New York New York
Set on the Strip between The Park MGM and Excalibur, this lively Big Apple-themed casino hotel features several towers built to resemble the New York skyline.
Sophisticated rooms have marble bathrooms, Wi-Fi and flat-screen TVs; suites add whirlpool tubs, mini fridges and Bose stereo systems. Room service is available.
Calico Basin
Las Vegas Natural History Museum
The founding of the Las Vegas Natural History Museum stemmed from the realization of a tremendous need in the community for a museum promoting an appreciation and understanding of global life forms, past and present.
In February 1989, a small group of concerned citizens requested that the Las Vegas City Council assist in finding a home for a pre-existing collection of wildlife and prehistoric exhibits. The City of Las Vegas purchased a building, located in the center of a proposed Cultural Corridor, to house the Museum. This building is leased for one dollar a year; however, the museum is responsible for renovations, upkeep, and operations.
Red Rock canyon
The Red Rock Canyon National Conservation Area [RRCNCA] is located just a few miles west of Las Vegas and encompasses 195,819 acres within the Mojave Desert. Red Rock Canyon is an area of worldwide geologic interest and beauty.
T-Mobile Arena (The Fortress)
T-Mobile Arena is a multi-purpose indoor arena on the Las Vegas Strip in Paradise, Nevada, United States, and is the home venue for the National Hockey League's Vegas Golden Knights, who began play in 2017.
Allegiant Stadium
Allegiant Stadium is a domed stadium located in Paradise, Nevada, United States. It serves as the home stadium for the Las Vegas Raiders of the National Football League and the University of Nevada, Las Vegas Rebels college football team. It also serves as the home of the Las Vegas Bowl, and the Vegas Kickoff Classic.
Lake Mead
Lake Mead, America's largest reservoir, was created by the construction of the Hoover Dam. With more than 750 miles of shoreline, you can enjoy a day at the beach, take a boat out and disappear for hours or nestle into a cove to try to catch a big one.
Hoover Dam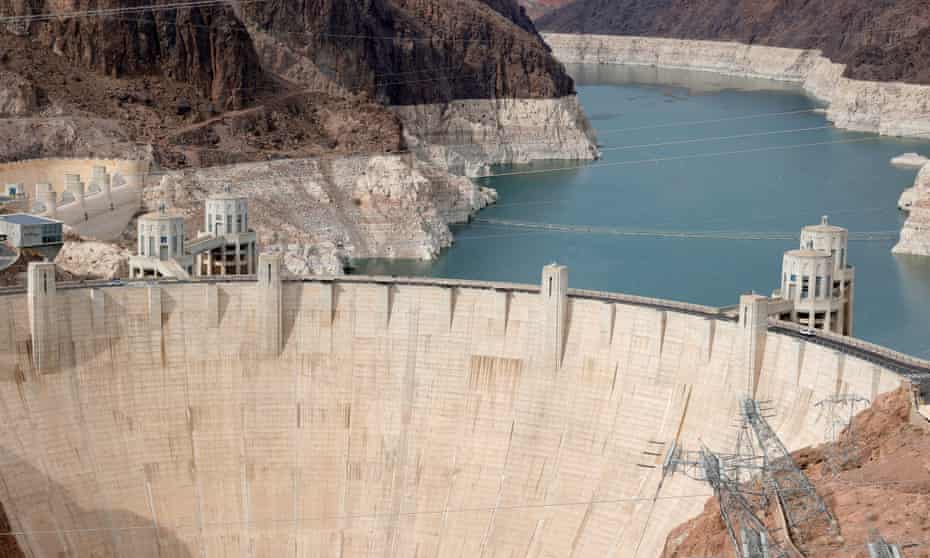 Hoover Dam is a testimony to a country's ability to construct monolithic projects in the midst of adverse conditions. Built during the Depression; thousands of men and their families came to Black Canyon to tame the Colorado River. It took less than five years, in a harsh and barren land, to build the largest dam of its time. Now, years later, Hoover Dam still stands as a world-renowned structure. The Dam is a National Historic Landmark and has been rated by the American Society of Civil Engineers as one of America's Seven Modern Civil Engineering Wonders.
Cashman Field
Cashman Field is a soccer-specific stadium in Downtown Las Vegas, Nevada. It is primarily used for soccer as the home field of Las Vegas Lights FC of the USL Championship. 
Downtown Summerlin Mall
The Downtown Summerlin shopping center or DTS is an outdoor shopping, dining, and entertainment center. It is a part of the greater Downtown Summerlin area, a 400-acre development which lies within the community of Summerlin on the western outskirts of Las Vegas, Nevada.
The District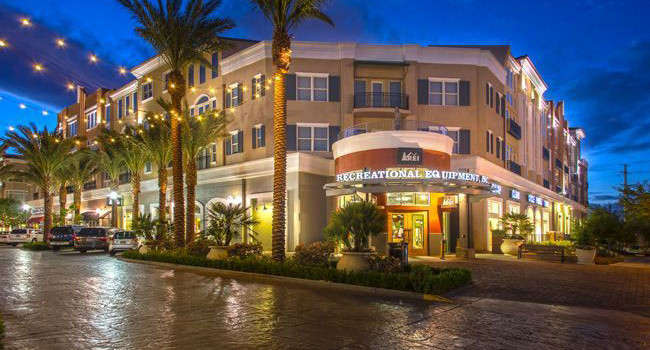 The District at Green Valley Ranch is a mix of restaurants, specialty shops, office space and luxury lofts. Visitors can stroll the streets, browse through the stores, or stop at one of the bars or restaurants. Open-air entertainment and a variety of events mean there's always something to look at.
Featured dining includes King's Fish House, Lucille's, P.F. Chang's China Bistro, The Cheesecake Factory, Balboa Pizza Company, Crazy Pita Rotisserie & Grill, Panera Bread and more!.
Town Square
Las Vegas is an open-air shopping, dining, office, and entertainment center development on 93 acres (38 ha) in Enterprise, Nevada on Las Vegas Boulevard. Town Square is owned by Plant Holdings North America, Inc. with TSLV LLC and managed by Fairbourne Properties, LLC, and encompasses 1.2 million square feet (110,000 m2) of retail and 352,000 square feet (32,700 m2) of office space. The center opened on November 14, 2007
Convention Center
The Las Vegas Convention Center is a convention center in Winchester, Nevada. It is owned and operated by the Las Vegas Convention and Visitors Authority. Being one of the largest convention centers in the world with 2,500,000 sq ft of exhibit space, it hosts shows with an estimated 200,000 participants.
Wet n Wild
Wet'n'Wild Las Vegas is a water park in Spring Valley, Nevada. The park is part of Village Roadshow Theme Parks' Wet'n'Wild chain of water parks located across the world. The park opened in May 2013 and is located at 7055 S. Fort Apache Road, southwest of the I-215 and Sunset Road intersection.
Sam Boyd Stadium
Sam Boyd Stadium is a football stadium in Whitney, Nevada, United States, an unincorporated community in the Las Vegas Valley. It honors Sam Boyd, a major figure in the hotel and casino industry in Las Vegas.
Mount Charleston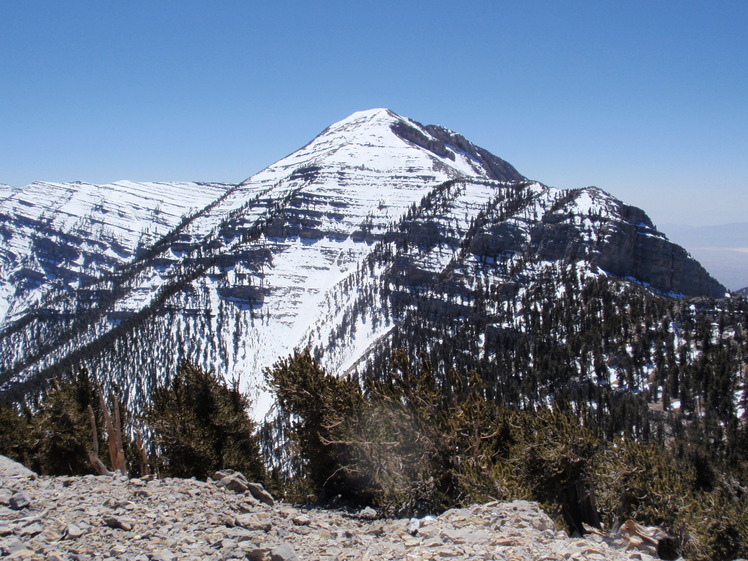 Mount Charleston is an unincorporated town and census-designated place in Clark County, Nevada, United States. The population was 357 at the 2010 census.
The town of Mount Charleston is named for nearby Mount Charleston whose Charleston Peak at 11,916 feet (3,632 m) is the highest point in Clark County. The town of Mount Charleston is in a valley of the Spring Mountains to the northwest of Las Vegas, noted for its hiking trails. It is also known for its Retreat on Charleston Peak, a 64-room hotel. At an elevation of approximately 7,500 feet, temperatures are much lower than in Las Vegas, which has an elevation of about 2,000 feet, making it a popular place for Las Vegans to vacation. The mean high temperature is 20.4 degrees (Fahrenheit) cooler than in Las Vegas. The area is also known as a vacation village for wealthy Las Vegas residents.
Lee Canyon
The Lee Canyon Ski and Snowboard Resort, officially Las Vegas Ski and Snowboard Resort, is located in Lee Canyon, 35 miles northwest of Las Vegas, Nevada, United States in the Humboldt-Toiyabe National Forest and Spring Mountains National Recreation Area.
Neon Museum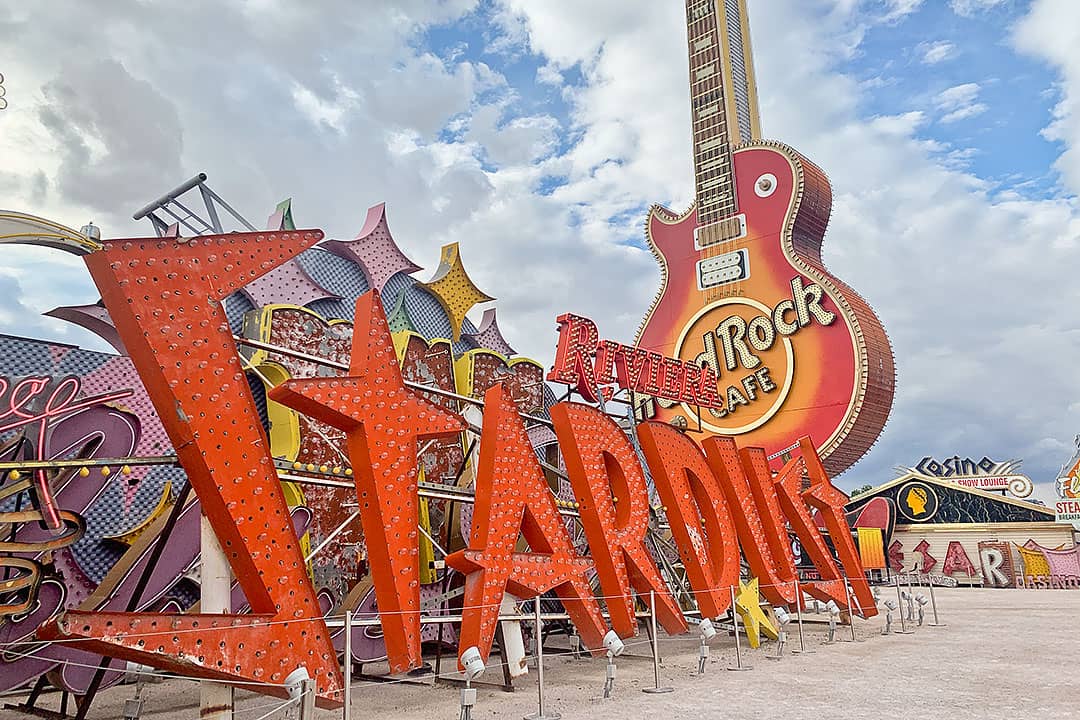 The Neon Museum in Las Vegas, Nevada, United States, features signs from old casinos and other businesses displayed outdoors on 2.62 acres. The museum features a restored lobby shell from the defunct La Concha Motel as its visitors' center, which officially opened on October 27, 2012.
World Market Center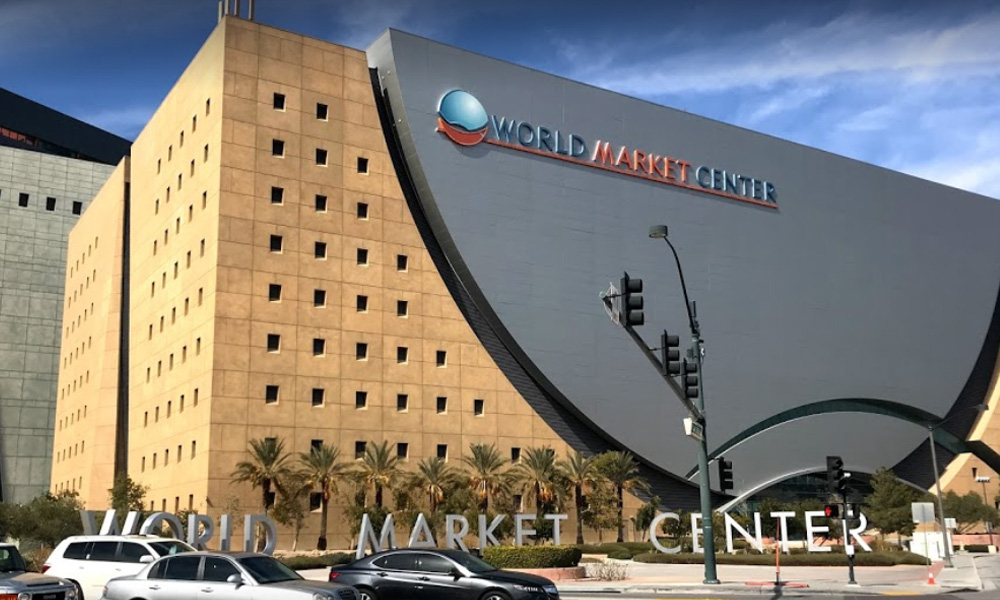 World Market Center Las Vegas, located at 495 Grand Central Parkway in Las Vegas, Nevada, is a 5-million-square-foot showcase for the home and hospitality contract furnishings industry in downtown Las Vegas.
The Seven Magic Mountains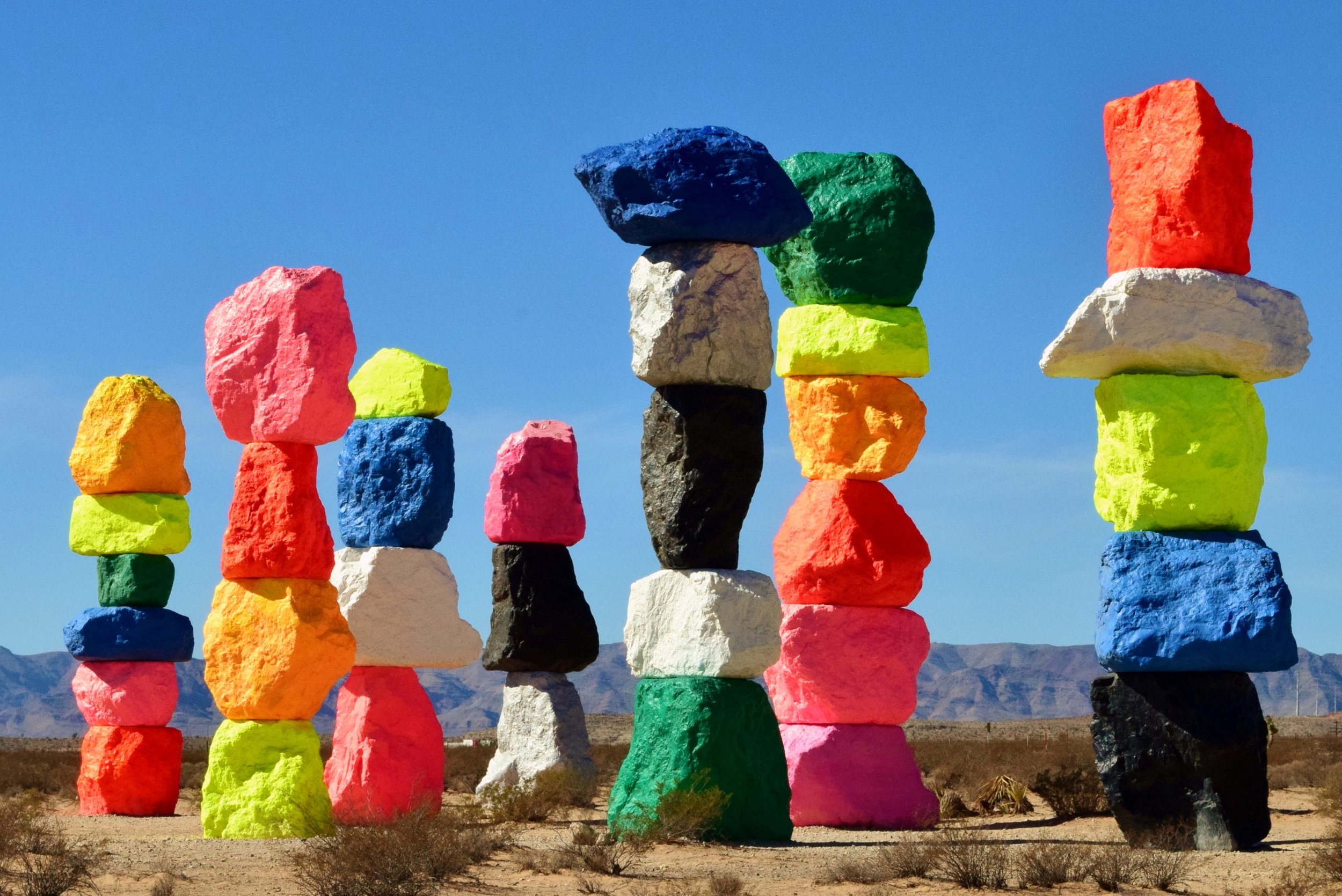 Desert art installation featuring 7 painted boulder totems up to 35 ft. high by Ugo Rondinone
Spring Mountain Ranch State Park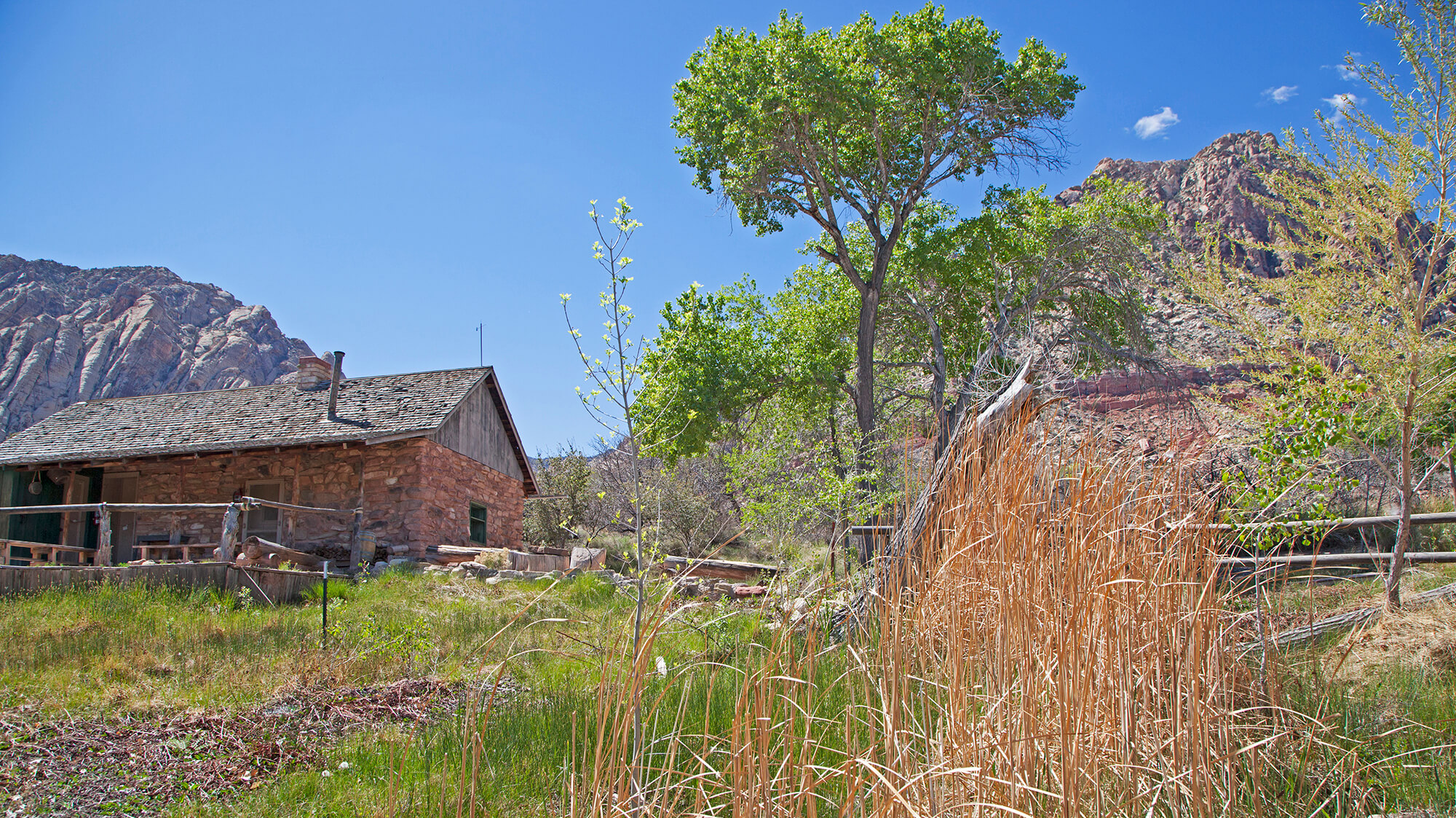 Spring Mountain Ranch State Park is a public recreation area located within the Red Rock Canyon National Conservation Area in Nevada's Cottonwood Valley, five miles northwest of Blue Diamond, Nevada.
Blue Diamond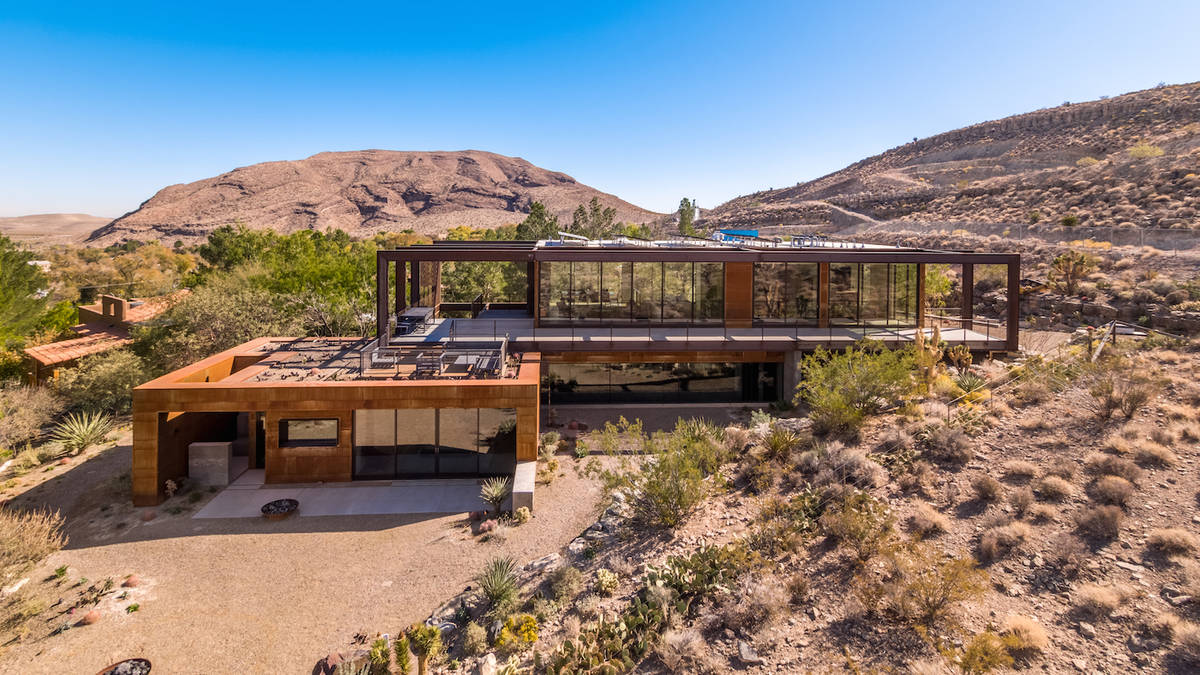 Blue Diamond is a census-designated place in Clark County, Nevada, United States. The population was 290 at the 2010 census. The town includes a park, private pool, library, elementary school, event hall, church, and mercantile / gas station. The mercantile (general store) was built in 1942 and originally sold household staples and sundries to residents who were mostly miners at the Blue Diamond Mine. The store has maintained its original external look. Walls inside the store showcase many of the town's historical photos, courtesy of the Blue Diamond Historical Society, a 501c3 all-volunteer organization.